Sylvia
Perreault
Books from an International Motivational Success Speaker, Author and Coach
I like to promote pride in being an incredible person!
"Selling is primarily a mental game. When you are mentally focused and positively motivated you are in a better position to be of service to your potential clients. As a professional salesperson you need to be fired up, every day! Mental preparation, as a daily focus, helps you succeed in this very competitive role, more so in tough times.
Affirmations for the Amazing Salesperson by Sylvia Perreault can fuel your fire to succeed."
Creator of Secret Selling Tips
"Sylvia Perreault is a real inspiration! She will be a real added value to your business. Not only will her writings and seminars help equip you with the tools you need to be more successful, but what I like most is that she speaks knowingly; these are not borrowed theories or concepts. It's her own experience that has brought her great results.
A thousand recommendations!"
The potential raiser: Expert in inspiration, success coach and author of 4 bestselling books
"Your expectations have a direct impact on your results. Unfortunately, your clients do not have assistants ready to motivate you before your meetings. This is where Sylvia's book comes in. The statements contained within it will change your expectations and will have a positive impact on your life. I wish you success!"
"Reading an affirmation everyday in the morning has become a ritual before getting started with work. Now I have the book, the CD and the perfect ritual to motivate me."
Online Boutique
Sylvia offers many motivational products!
Her passion for success and pride has lead her to develop, dynamic products such as audio's and MP3's,
for her famous Book and E-book's. These products are designed to stimulate either you or your team.
But beware! Her pride is contagious and you will never see, the same way again, your business, your sales team or even your profession!
You will be sold to Success!
Get your copy now from Amazon by following this
link

:

Affirmations for the Amazing Salesperson: Essential tools for anyone who aspires to succeed!

Affirmations for the Amazing Salesperson©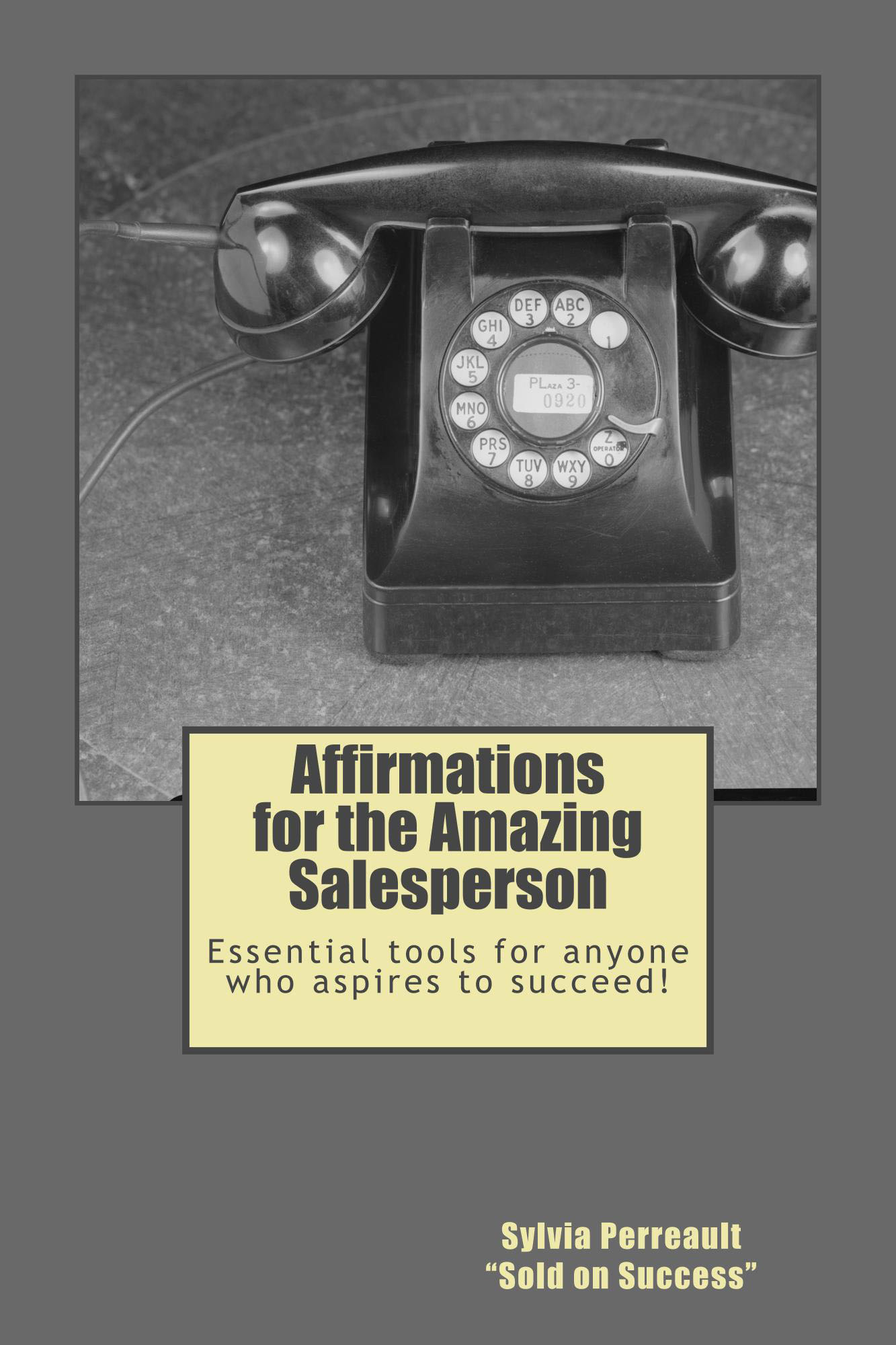 Learn how to:
Use the power of your thoughts to move you over any obstacles.
Create massive success by focusing on the quality of your thoughts
Implement the action-oriented skills required to achieve peak performance
Think, act and respond to opportunities like a millionaire entrepreneur
This little negative voice that I often call the "¨Self-Saboteur" always overwhelms our thoughts at the wrong time! This voice grows more intense and increasingly uncontrollable when we are faced with greater challenges or when we demand of ourselves more self-confidence and emotional control.
We need to surpass challenges with strength of character and a continuous, positive mindset. That is why affirmations are the perfect technique to maintain and strengthen your positive inner voice; the one you need to perform successfully and surpass yourself .
The art of using positive affirmations is the best gift I can offer you and I sincerely hope that some of the statements contained in this book will inspire you
toward achieving greater success. e-Book Affirmations
for Amazing Salesperson!
I love selling And I am proud of it!
To buy now visit Amazon.ca here: http://www.amazon.ca/dp/B00LW3VLXE
100+ pages of positives thoughts for your Sales Success and Souls!